Although distributed workforces have pandemic-proofed the way we work, how well they work across various sectors is a billion-dollar question. Linkedin data shows a 241% increase in jobs becoming remote-compatible between April 2021 and 2022.
However, not all remote jobs are equal. Research by public accountancy and consulting firm Crowe shows that some industries are doing a better job of transitioning to remote work than others. In the firm's study, 56% of respondents in the banking industry rated their transition as excellent, compared with 53% of respondents in the public sector and 37% in manufacturing and distribution. It's worth noting, however, that 56% of manufacturing and distribution respondents rated virtual work positively.  However, the compulsive transition to remote did not bode well for some sectors. Employees in education, construction, healthcare, and trucking have had some inertia while adopting this transformation.
Industries Flexing Their Remote Work Prowess
The share of remote job listings is incredibly robust in five broad sectors. Technology, information, and media (41.2%) top the charts in April 2022. Education (29.0%) is next, followed by administrative and support services (27.4%), professional services (26.5%), and financial services (20.2%).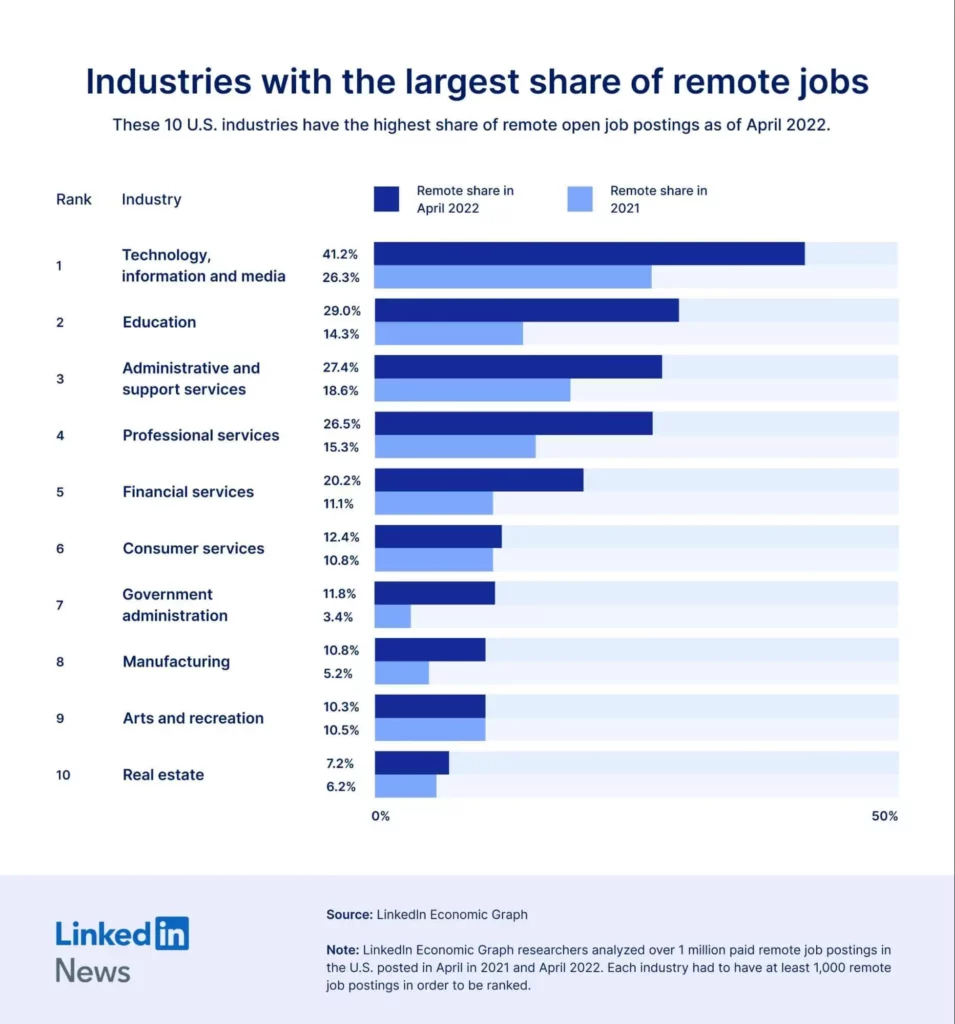 ‍
Why have these industries successfully transitioned to remote work?
IT
Information technology is the industry of choice for remote workers. For this stratum of knowledge workers, being part of a distributed workforce has accorded increased levels of workplace and time flexibility. Many studies indicate that employers greatly reaped cost, productivity, and employee benefits by distributing their teams.
With many businesses embracing digital transformation, the demand for cloud computing, software development, and information security has increased exponentially. This will lead these businesses to tap into IT talent wherever they are – local, abroad, freelance, etc., increasing demand for workers who can work distributed and management tools to hire and manage distributed workers.
Digital marketing & sales
With curtailed opportunities for event marketing, outdoor advertising, and in-person sales over the pandemic, companies took their growth tactics digital. Resultantly, demand for digital sales and marketing professionals rose.
Businesses were quick to understand this, and both in-house marketers and marketing agencies expanded rapidly, taking after the model of distributed teams. Interestingly, this industry segment was able to set up a distributed team with freelancers. Bayt reported that digital marketing was the most demanded service, followed by information technology, customer service, accounting, banking and finance, and HR and recruiting.
Legal
According to Linkedin's  Workforce Confidence Survey, full-time remote work was possible for 41% of respondents working in law. Hybrid work is in the mix for 49%, and flexible hours for 47%.
Employers in legal firms opine that increasing the adoption of hybrid or work-from-home setups can help improve productivity and cut real estate costs.
Customer service
According to a 2021 Forrester report, 71% of support leaders and decision-makers believed that the pandemic would significantly impact how they address customer support long term. One such impact was the sharp increase in remote customer support teams.
Even before the pandemic, businesses outsourced or offshored customer support teams to cut costs.
With their distributed customer service teams showing increased productivity, companies expanded support teams. This was a huge cost saver, unlike when businesses had to set up offices to grow their regional presence. A technician or support staff could diagnose a customer's device remotely from anywhere in the world with remote support. This echoes employee sentiments and can be surmised by Gartner, who reports that 70% of customer service employees want to continue working from home.
Industries That Saw Mixed Sentiments With Remote Work
Education
Linkedin's Workforce Confidence Index noted that 31% of respondents working in the education sector were confident that their employer would offer full-time remote options in the long run. Remote instruction, testing, and evaluation skills are becoming more popular for teaching and training jobs. As online classes become more popular, more teachers can work remotely. For example, adjunct professors teach many college-level courses online to serve non-traditional students better.
Although imparting education services requires good internet at both ends – the teacher and the student – a fully remote model may not be the best for this group. However, schools and colleges could use a hybrid work model for their employees. For example, teachers can work on-site to use school infrastructure to teach students. Employees who impart administrative services such as accountancy, database management, IT support could log in from different locations.
Although there were a few niggles for students who had to adapt to online learning, for teachers and tutors, student-teacher engagement was a sore area that needs work.
Second was the case of cyber threats. According to a report from Comparitech, ransomware attacks on schools and colleges across the U.S. alone cost $3.56 billion in downtime in 2021. Atlas VPN reported that the education sector saw an average of 170,000 attacks between July 11, 2022, to August 11, 2022.
One might argue that the case of engagement and cybersecurity threats is pervasive across all industries. It's true. But the education sector has long been technologically-averse compared to its IT counterparts. Research by Salesforce has found that staff who lack sufficient institutional support say it is hard to get technical assistance (40%), communication is poor (38%), and there is nowhere they can go with questions (29%). Almost a third (31%) said their institution "uses multiple technology systems, and it's hard for me to get the data I need to do my job effectively."  This has to change for remote work models to work well.
Construction
Construction is a very injury-prone industry. This presents a challenge in the age of COVID-19 when headcount at construction was reduced to comply with social distancing regulations.  Paired with the added difficulty of managers conducting remote work, this resulted in fewer on-site safety coordinators, which resulted in less supervision and more risk of injuries.
Another challenge remote construction managers face is tracking their workforce's productivity. Unfortunately, some remote teams take advantage of the situation and slack off when they know on-site management has been scaled back. Buddy punching was quite prevalent even before the pandemic which resulted in payroll errors, working hours, etc. With supervisors and managers working remotely, this became difficult to monitor. Thus on-site supervision is proving difficult to replicate in remote work.
Thirdly, even when employees hit their productivity goals, tracking and attributing those efforts remotely isn't easy without the correct tools and software. When construction management professionals are working in the same office, staying on the same page and keeping documents and vital records organized is much easier than when people are leading remote teams.
Many construction companies without the proper systems have struggled in this regard. Emailing spreadsheets and word processing documents back and forth doesn't cut it, given the complexity of data in the construction industry.
Healthcare
Healthcare, an industry at the center of the COVID-19 pandemic, had to shift administrative positions and oversight roles—such as finance, billing, and collecting personnel and executives and managers—off-site, said Brian Sanderson, managing principal of healthcare services at Crowe.
Working remotely, employees responsible for compiling regulatory documents, planning and reporting drug-disease modeling, a meta-analysis of clinical data, working on clinical trials, and so on.
However, hospital executives and managers might have to visit the facilities as part of their roles.
Trucking
Trucking, distribution services, and retail are adapting to distributed work by leveraging new technologies to enhance productivity, foster accountability, and build more robust employee engagement. However, the industry faces many challenges due to employee turnover. Increasing demand and competition for qualified and safe drivers also exacerbate the situation. On-the-go drivers are also disengaged from their employers and each other, which contributes to a lack of engagement.
The fate of distributed workforces in this industry lies with technological improvements. The power of 5G wireless technology unlocks the potential of software solutions that can dramatically improve how remote workers, such as truck drivers, communicate. Faster data speeds can enable frontline workers to connect seamlessly with their company and peers while on the road, enhancing productivity and fostering engagement.
Retail workers
Retail is another sector that faces considerable challenges due to a shift in workforce distribution. Nearly 35 percent of U.S. retail workers feel disengaged at work, the lowest engagement rate of any occupation.
Providing service for online retail has been complicated because fewer salespeople are needed on the floor, but more tech and order fulfillment specialists are required. It is equally important to keep retail specialists engaged as it is to keep frontline workers engaged; however, they should be more noticed and emphasized.
Retail workers and office staff must communicate more openly to improve employee engagement and retention. A growing number of retailers are now using mobile technology to create more inclusive cultures that recognize their employees' contributions and provide information about sales promotions and in-store events. The use of these technologies can also assist in coordinating shifts, a complex process.
From what we have observed, learned, and implemented so far, solid systems and processes to make remote teams work well. This type of progressive policy improves workers' experiences by reducing barriers to interaction and enables companies to compete better for talent and business in the next wave of the economy. Whether these models are sustainable only time will tell. However, we must acknowledge that some mix of distributed teams will always remain to impact the way employees work.