The world of work plays a different stage for different people. For many, work sets them up for financial stability. For others, work is a way to fulfill their life's purpose. For those who desire to tackle climate change, green jobs and green skills help them achieve their goals.
Throughout the last decade, green technologies have seen rapid innovation, resulting in significant cost reductions and rapid deployment of the most mature technologies supported by adequate incentives.
The International Labor Organization estimates creating 24 million jobs for "Green Collar workers" due to new climate policies and commitments.   The share of green talent in the US workforce has grown from 9.6% in 2015 to 13.31% in 2021. Similarly, the Local Government Association of the UK predicts that 700,000 job roles requiring green skills will be created by 2030.
With experts believing that the oil demand may have peaked in 2019, signs show that we must prepare for a low-carbon future that rides heavily on a green economy.
The green economy will demand new skills, profiles, qualifications, and training in the labor market. Some sectors will require employees with green skills to ensure they're meeting legal requirements on carbon emissions or waste management. Others will find that having green skills within their team will help them find more efficient ways of working, even without legal issues and obligations.
Five Terms Employers Need to Know When Understanding The Green Job Economy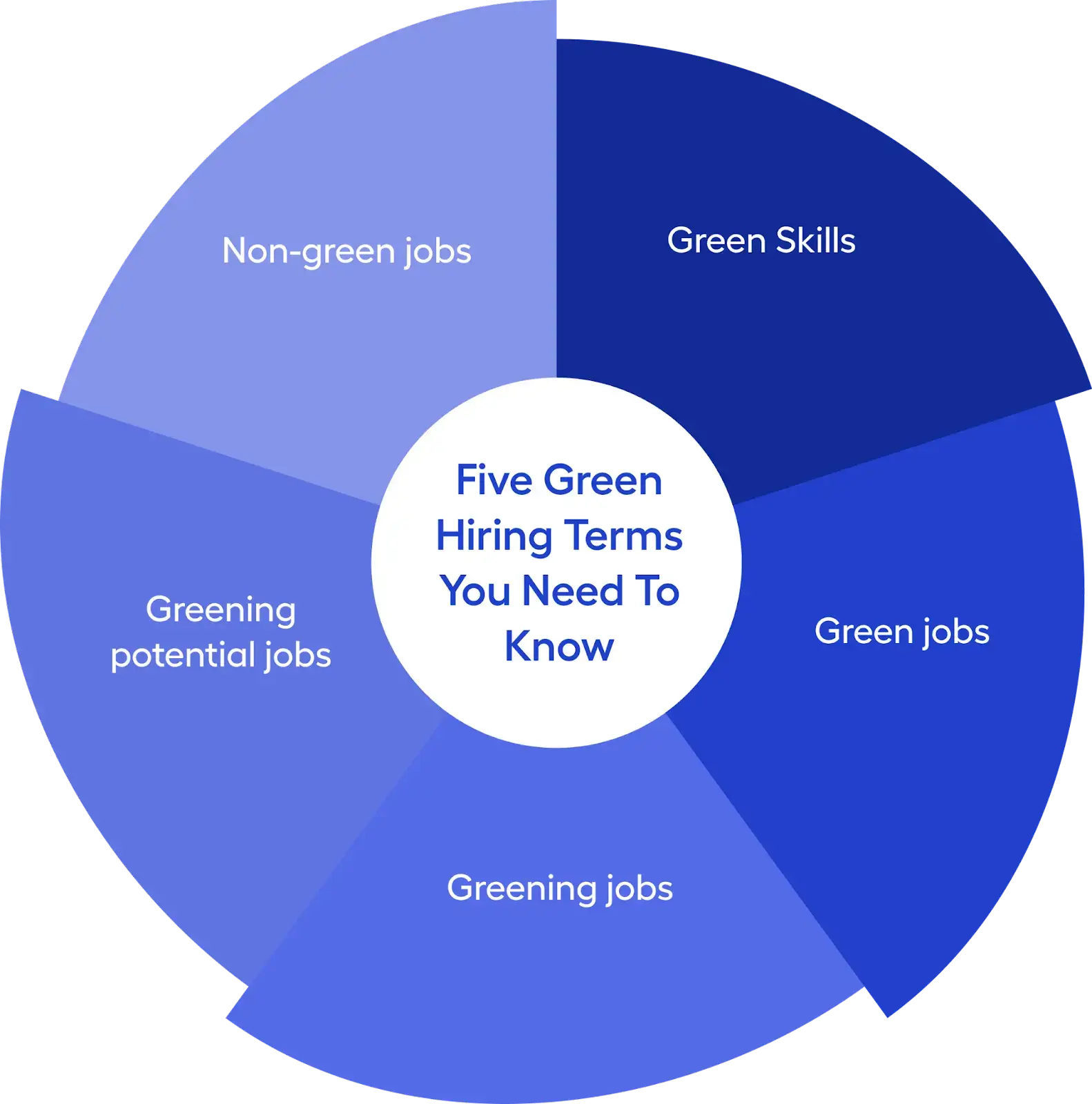 Green Skills: Green skills are specific employee skills that help build an environmentally sustainable economy.
Green jobs: Green jobs need extensive knowledge of green skills. Some popular roles include Sustainability Manager, Wind Turbine Technician, Solar Consultant Ecologist.
Greening jobs: In building a green economy, not all jobs can be entirely performed with green skills. Some jobs can continue within the traditional sense while accommodating a few aspects of the role to be done in a sustainable, environmentally friendly manner, such as compliance manager and technical sales representative.
Greening potential jobs: Jobs that have been historically carried out without but have the potential to become green are jobs with greening potential.
Non-green jobs: Jobs that do not require any green skills are non-green jobs.
Now, let's answer this question. What makes jobs "green"?
To achieve a green job, an organization must partner with an individual who is motivated and capable of fulfilling the role. The company or organization can either be in the 'green' sector (e.g., solar energy) or in a conventional industry but making genuine and substantial efforts to green its operations, not just greenwash.
According to the International Labour Organization (ILO), this type of job:
Increases efficient energy and raw materials consumption.
Limits greenhouse gas emissions.
Minimises waste and contamination.
Protects and restores ecosystems.
Contributes to adaptation to climate change.
Where Are The Best Green Skills?
Various countries have plugged these terms into their economical, environmental and development narratives at different times.  For example, green skills have been in parlance in the USA since 2008 when Obama unveiled the Green Job policy. USA's Household survey data reveals that employees performing green-intensive typically:
Earn higher income
Perform roles that can be less prone to automation
Live in urban areas
Are of prime-age
In India, green skills ruled the roost in September 2022 when the Indian prime Minister mentioned the term at the National Conference of Environment Ministers in Gujarat. Until then, any mentions of green skills on a national scale was limited. Even Linkedin's Green Economy 2022 whitepaper noted that green transformation in India needs a policy boost and more initiatives.
APAC is expected to contribute strongly to global economic growth in the coming decades, with India and China alone forecast to make up 35% of global GDP by 2060. The region is, therefore, essential to our green utopia.
Thus, all countries must play their part in combating climate change and take active steps toward becoming more green. Each country is going through a unique journey that reflects its current workforce and human capital situation.
Here's a snapshot of how each country's green labor economy is faring.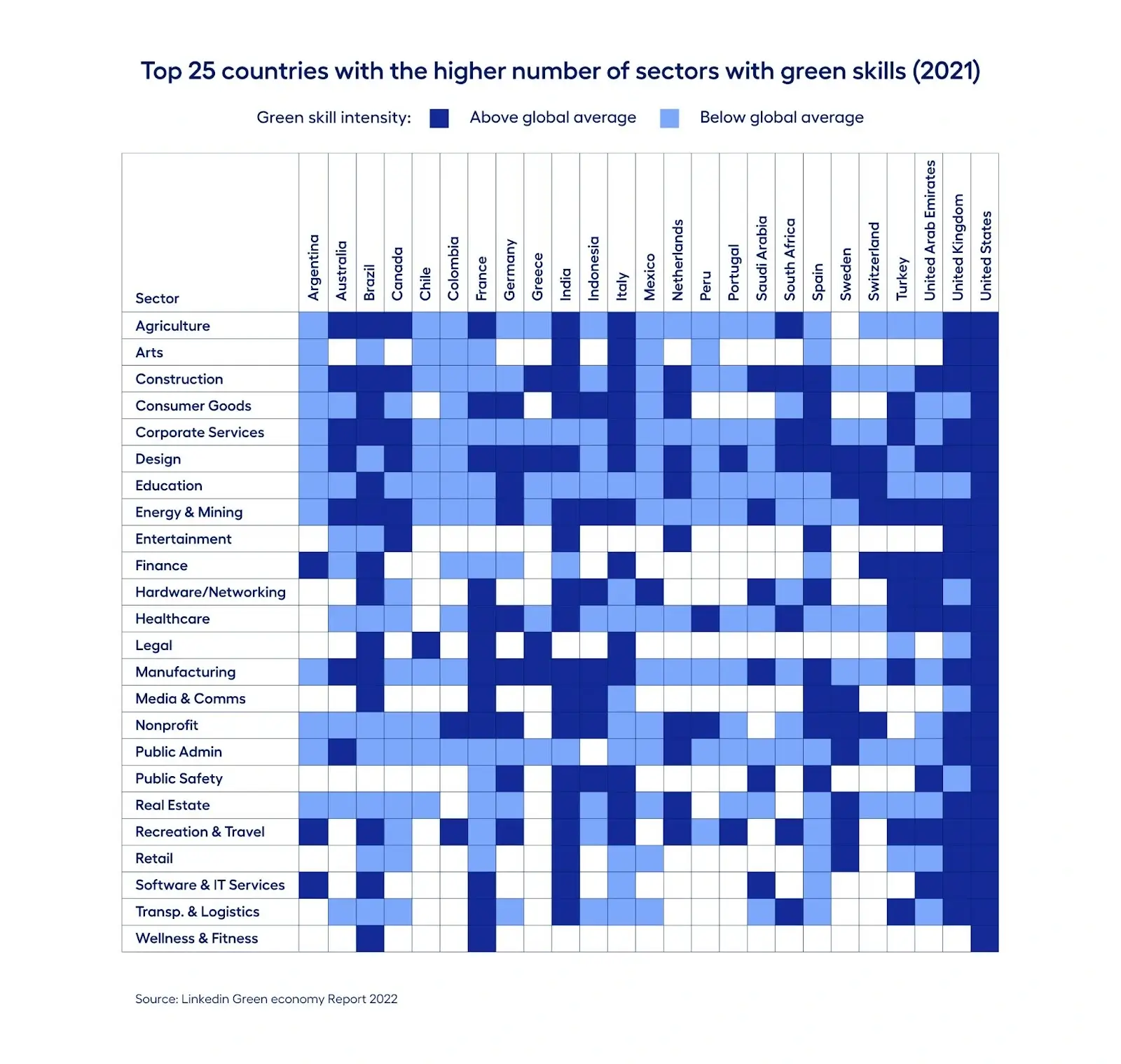 United States of America
LinkedIn's report recognizes the USA as the most green-intensive country, having the highest number of sectors with green skills.  Green entrepreneurship has seen increased adoption over the past decade with the advent of the green job policy.
This can be observed from the 237% increase in jobs in the Renewable & Environmental sector against a paltry 19% in pollution-intensive industries such as oil and gas.
An encouraging aspect of the USA's green labor market is the increased adoption of green skills among young graduates. In 2020, green jobs found 1.6 times more favor from recent graduates than the Oil & gas sector. In 2022, the number one takers of green jobs were Gen Z, and their adoption is growing faster (at 129%) than millennials, Generation X, and baby boomers. Such adoption is crucial to building a green economy and a greener future, as such fervor for these jobs will leave a lasting impact on the environment.
Construction, renewable energy, and fashion are currently the fastest-growing industries for green jobs and green skills in the USA. Green Collar Blog reports that, until 2026, solar installers and wind technicians will be the fastest-growing jobs.
Australia
Australia is one economy where the energy sector powers a significant part of the country's GDP and growth. The country's Renewable Energy Target program has enabled the government to invest 1.4 billion AUD in renewable energy and storage, directly and indirectly boosting green jobs by 50% since 2016. In 2021, green jobs accounted for 1.2% of all hiring, with the energy and mining sector hiring the most green talent in 2021.
The table below highlights various jobs and other green talent sentiments in the sector.
New Zealand
A pioneer in climate change policies, the island nation is heavily lobbying industries to "green" their processes and practices. New Zealand has demonstrated a heavy commitment to building a green future. It is one of the first countries to have set up emergency funds to reduce greenhouse gases. Even at a socio-political level, one can see that New Zealand's Green Party is one of the highly influential parties in the country, which has been consistently lobbying to build a sustainable future for New Zealand.
In addition to this commitment, the government has not shied away from greening its labor market. Green hiring has increased 41% since 2016, while the share of non-green jobs has declined by over 4% in the same period.
Public administration is one of the major recruiters of green talent, primarily hiring for roles like policy advisor, sustainability manager, etc. The construction sector is one of the leading employers of green talent, with functions like real estate specialists and building managers observed as fast-rising green roles.
To up the ante, New Zealand universities have begun degrees and learning pathways to upskill and reskill employees to match the needs of the labor market. Auckland University of Technology has launched a bachelor's degree in Sustainable Enterprise that caters to aspirants with skills in environmental risk assessment, ecotourism, climate change, emission strategies, etc. The University of Auckland has instilled the Sustainable Built Environments Research Center to lead research and develop structured learning programs in the field.
Singapore
Although Singapore isn't a leader in the green skill economy, the country is starting to grab a chunky share of the 1.8 billion predicted jobs. Driven by the Singapore Green Plan, green hiring in Singapore has increased by 15% since 2016, despite hiring non-green roles still accounting for over 50% of the job market. According to Accenture, 75% of Singapore's youth aspire to have a job role that requires them to impart green skills.
Currently, Singapore lags heavily in meeting demand. The Skillsfuture Report has revealed that the need for green facilities management and sustainable investment management has grown by 23 times and 15.5 times, respectively. However,  Accenture believes the country can punch way beyond its weight thanks to a stable and resilient government, robust trade infrastructure, and a mature innovation economy.
To grow further, Singapore and Australia have signed the Singapore-Australia Green Economy Agreement (SAGEA) to foster trade, investment, and job creation. The partnership will aim to develop policies that enable a smooth green transition and create research into carbon markets. With Singapore's vibrant youth ready to wear green collars, employers can look forward to the city-state becoming a talent hub for hiring green talent.
Interestingly, unlike other markets, the finance sector has been the major recruiter of green talent in Singapore. Green issues will become more critical as investments in sustainable and ethical organizations become more important in the finance industry. The banking industry will have to focus on finding green alternatives if the companies it works with do not trade sustainably.
India
Surprisingly, the only country with a talent surplus in 2022 is slow to add green skills and green jobs to its labor market. According to the Linkedin Report, about 56% of hiring in India were non-green jobs. However, with ambitious projects such as the National Solar Mission and reduced carbon-emission targets, India will be expected to direct its youth to acquire green skills to bite into the 1.8 billion-large job market.
The manufacturing and construction industries are the top recruiters of green talent. Construction sites and factories are becoming increasingly concerned with environmental issues. Among India's top green skills listed by individuals is environment, health, and safety (EHS), India's second-fastest-growing green job between 2016 and 2021.
China
In its 12th Five-Year Plan, China made reducing carbon intensity a strategic goal, following which, investments on green energy and sustainable environments have been encouraged.
Despite the low green skills intensity of the finance sector globally, China was one of the top recruiters in green skills in 2021. In addition to supporting green lending and investment activity, the government actively encourages a green finance system.
This encouragement has also translated into increased hiring for green roles.
About half of China's hiring in 2021 was for green jobs. Linkedin's report shows this is far higher than any other APAC, or the global figure of 40% in 2021.
Conclusion: Bridging The Green Skill Gap
This is what all research on green jobs and green skills surmise: there is not enough of either of them.
Over the last decade, many governments now realize that economic growth can go hand-in-hand with sustainability. This has led governments to create policies and regulations that incentivize the hiring of more green jobs. The USA offers tax credits up to $500 for every green job created in a company. Many countries in Latin America such as Brazil, Chile are investing heavily in the form of tax breaks, direct funding, and lobbying non-green businesses to make a green transition in the way they carry out business functions.
Although a green labor economy is inevitable, currently, the adoption of green jobs is still terribly slow.
Governments, corporations and individuals have to plan together by increasing opportunities for employees who already possess green skills and identify low hanging fruit in various business functions which can be greenified. Governments must also encourage employee transition from pollution-intensive industries  to green industries. For example The oil and gas industry is already a huge source of talent for the clean energy sector, particularly in the management and technical areas of the sector. With specific safety, leadership and management training these employees can be easily shipped to the clean energy industry.