The Spring 2023 G2 Grid Reports are out and Multiplier is delighted to share the fantastic news that it has been recognized for its cutting-edge solutions and customer-first services in multiple categories.
Thanks to our customers, Multiplier has earned the Grid® Leader for Multi-Country Payroll for Spring 2023 badge. We're also honored that we are #1 on the Momentum Grid® Report for Spring 2023 and have earned the titles of Easiest Setup & Fastest Implementation on Mid-Market Implementation Index for Multi-Country Payroll.
G2's Grid® Reports are based on a combination of high levels of customer satisfaction and market presence from independently validated users. On the other hand, Momentum Grid® is determined by user satisfaction and momentum scores. The momentum score is determined using the product's web presence, social media presence, employee count, and the increase in the number of G2 reviews over the previous year.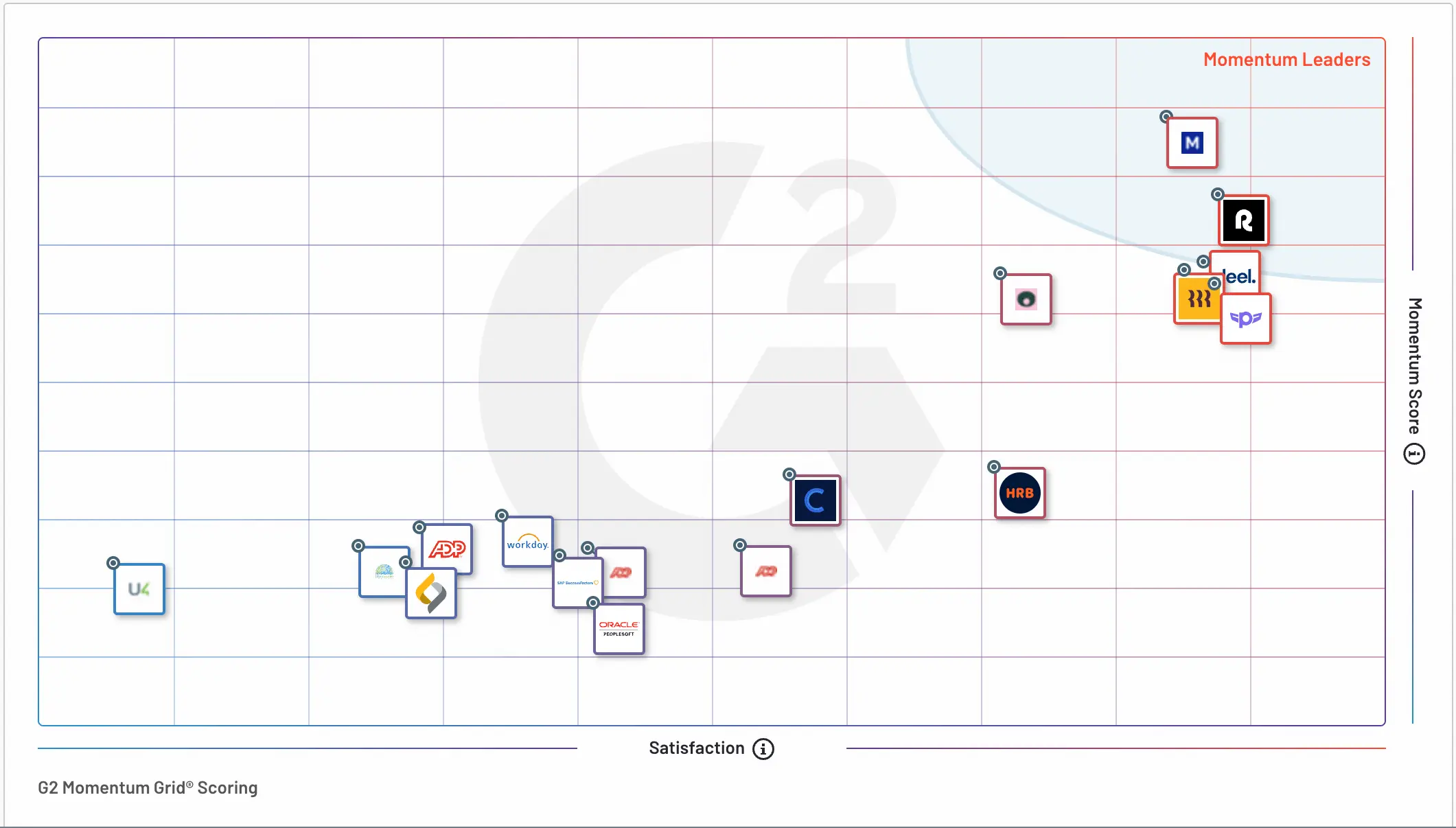 Multiplier also boasts the highest customer satisfaction rating and was named "Winner" in other categories, including:
Fastest Implementation
Best Support, Easiest Doing Business With
Best Meets Requirements
Easiest to Use
Easiest to Set Up
Best ROI
Multiplier Co-founder and CEO, Sagar Khatri was delighted with the recognition, saying: "We are motivated by the trust and satisfaction Multiplier customers have shown us through this exceptional recognition by G2. Navigating the global employment space can be extremely challenging. From international compliance to local labor laws and policies, it is paramount that a trusted global employment partner like us shows up every day with on-ground expertise, a customer-first mindset, and the belief to drive meaningful impact for our customers and their teams. We are thrilled about this news, and we are now more certain than ever in our ability to empower companies to scale globally confidently." ‍
The Spring 2023 G2 Grid Reports underline our commitment to pushing the limits of global payroll management with our innovative solutions and top-notch services.
Hear it from our customers
The G2 recognition means a lot because the reviews reveal the true sentiment of our customers. G2 is the largest customer review site for business software and an important source of information for technology shoppers. Additionally, G2 wins tell us we are going in the right direction and meeting our customers' needs. Here are some of the top customer comments we received:
Highly recommended! Great EOR service to collaborate with.
"We have switched to Multiplier from another provider due to difficulties in the onboarding process. Even though transitions can be tricky, everything was swift and smooth; I am genuinely impressed. Multiplier was very committed to this project and is generally very customer-focused. The platform is excellent – easy to use and has tons of resources supporting the HR/People Leaders. I am looking forward to continuing working together!" – Computer Software (Security) company based in Zürich
It's a great software for Payroll and HR management services.
"It simplified our payroll process and reconciliation of payroll accounting. The customer support team is amazing. They are professional and my issues are resolved in a short time." – Information Technology and Services company based in India
Easy hiring anywhere in the world
"Ease of use, quick onboarding, reasonable prices, helpful staff" – Computer Software (Automotive) company based in Netherlands
Our trusted EOR partner for expanding the team in India
"I love the fact that the Multiplier platform is mostly self-served, and our HR was able to onboard and manage multiple employees in India with minimal help. The overall response and customer support from the Multiplier team have been great. The team is  always available to help with our needs, including taking care of details to ensure that all our employee onboardings get processed smoothly." – Food and Beverage company based in India.
‍
The latest G2 Grid Reports demonstrate our commitment to changing the way people think and work so that their organizations can thrive. We are motivated to make our products more useful and beneficial to our customers. And we get excited when customers tell us about their experiences and successes with our products on G2.
Ensure a Smooth Multi-Country Payroll with Multiplier‍
Multiplier's payroll solutions help organizations pay employees in multiple countries — ensuring a smooth process from beginning to end.
Moreover, Multiplier's  Employer of Record (EOR) solutions simplify the employment process by managing the complexities of local labor laws, compliance, employment contracts, benefits, taxes, and more, all wrapped up in an easy-to-use SaaS solution.
Learn more about Multiplier's payroll solutions by talking to our experts.‍