"Commuting to office work is obsolete. It is now infinitely easier, cheaper, and faster to do what the nineteenth century could not do: move  information, and with it office work, to where the people are," said Peter F. Drucker, also known as the Father of Management.‍
Most knowledge workers worldwide are moving away from concrete jungles and relocating to smaller towns and places, prioritizing flexibility with remote and hybrid work opportunities, thus leading to a decline in commercial real estate.
A recent survey by PFNYC shows that only 8% of office employees who worked in New York City before the pandemic are back to work five days a week. And this is not only limited to New York City; the shift is killing demand for office space and threatening a commercial real estate market meltdown over the next decade in all major U.S. cities. According to the San Francisco Standard, an "epic commercial real estate crash" is looming in San Francisco, with "the city, its budget, and its ability to provide services tied to the tracks."
SP Global reports a Kastle Systems study, which shows the average office occupancy rate across a few big U.S. cities.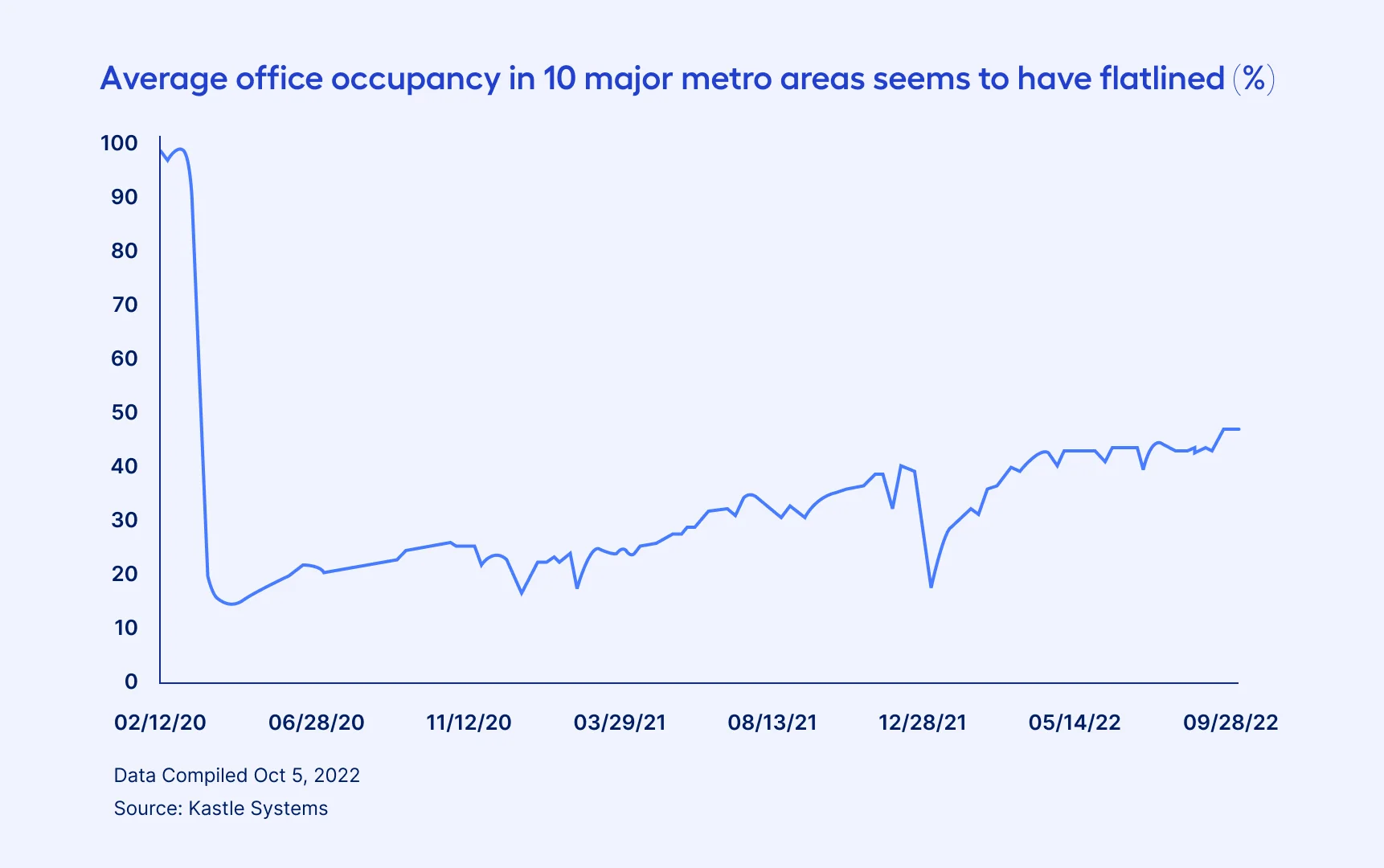 At the end of September, the occupancy rate was around 47%, less than half of what it was before the pandemic. This is only a marginal increase from the 36% occupancy rate a year ago – a time when a significant number of employees were expected to return to work. Currently, the number of people returning to the office appears to have peaked, and office occupancy rates in some cities have hardly changed from where they were at the end of 2021.
Similarly, a study by Boodle Hatfield, a UK-based legal firm, claims that around 1.8 million square meters of office space in the UK were no longer utilized in March 2022, the biggest dip since a couple of decades ago. The agency believes that the pandemic-induced boom in remote and hybrid working most likely caused the slump in demand. The financial district of London saw the second-largest drop in office usage, with accounting firms such as Deloitte and BDO refusing to renew leases on prime real estate in the British capital.
To put it concisely, remote work is poised to significantly disrupt the value of commercial real estate worldwide.
A Bad Moon Rising or Time for Big Cities to Change? ‍
In a recent speech, New York City Mayor Eric Adams addressed the need for change by saying, "Our economic leaders must sit down and say what our business centers and districts are going to look like. Do we change the zoning? Do we allow these new workforce housing that's coming together outside because there are new ways people are doing business?"
On a related note, a latest study by New York University Professor Arpit Gupta and a couple of his colleagues predicted huge drops in occupancies, lease revenues and renewal rates in the commercial real estate with a whopping 39% decline in the long run value. This demonstrates how the cities and economies are in for a rough ride ahead if the current real estate model is not challenged with creative business plans. In short, the world of technology and knowledge management is at a tipping point that will alter where and how we work and the nature of our cities and towns.
However, to get this transformation right, we need to understand what drove people to offices in the first place.
DJ Huppatz, Senior Lecturer, and Agustin Chevez, Adjunct Research Fellow at the Swinburne University of Technology, explain that "the office" began as a place of peace and solitude, allowing concentration and safe storage of significant paper works. Technology was critical in the development of the office as computers used to take up entire floors, if not entire buildings, to house their processing power. They shrank over time, but offices remained a place for workers to access hardware that was either too expensive or impractical for home use.
Nevertheless, over time, most workplace conversations started happening via chat, emails, and online documents. Meeting people in person was perceived as a tool for advancing careers and building relationships. Even in an open office plan, people were completely immersed in their world, with headphones on and multiple tabs open to Google Docs, Slack, Email, Spotify, Twitter, YouTube, and many others. Although the concept of working from home existed before the pandemic, still the majority of large tech companies invested heavily in real estate and required employees to spend several days a week in the office.
Eventually, the pandemic revealed an unspoken truth. People were equally productive while working from home, even more. Notably, in a 2021 survey conducted by Chicago Booth, 6 out of 10 workers admitted being more productive while working from home than working from the office. Likewise, unnecessary meetings and chitchats were replaced by emails and quick huddles and hours were saved that were earlier spent on commute each way. All this has led to a possibility to rethink the remote working and declining commercial real estate trend as an opportunity to remodel the office districts and establish a win-win situation.
The Revolutionary Rethinking of the Office Spaces- And the Cities‍
Decades of research have postulated that urbanization aggravates income inequality, and flexible work methods have been a massive boon for areas outside of major metropolitan areas. For instance, BBC reports the migration of around 380,000 people since the pandemic from Santiago, the capital of Chile, most settling down in smaller towns and cities such as Pucón. Such small cities which earlier struggled with abandoned industrial spaces are now entering the game of adaptation. The concept of flexible work has allowed a re-widening, a dispersal of human capital that unwinds some of the concentration to urban areas over the last century, restoring a better balance.
Consider a world in which big cities are redesigned to attract residents with remote or hybrid jobs who choose their home based on what the city offers in terms of great schools, hospitals, entertainment, waterfront, and community rather than its proximity to their corporate office. Individuals or organizations could rent flexible workspace in large office buildings on a short or long-term basis, and knowledge workers who leave the city make urban spaces more affordable for essential workers such as teachers and healthcare workers who will be able to work along side those working remotely.
Moreover, doing this may also provide a much-needed influx of new residential space, aiding the fight against rising home and rental prices.
Henceforth, the small towns that faced deindustrialization over decades will see an influx of new residents to help support their tax bases. Again, most jobs do not permit remote work, but a good amount of wealth is concentrated among those that offer. Allowing or even encouraging remote workers to live wherever they want could improve city affordability and the economic health of small town or rural communities.
As James Bianco, President of Bianco Research, says, "Workers need to gather with co-workers, but the current model is no longer working," the shift to flexible working methods may necessitate a commercial real estate collapse worldwide. However, the ideology of next-gen urban centers may help prevent the apocalypse and modify the metropolis best suited to the new normal.
In that event, the metropolitan cities may still focus on drawing top-tier workers in finance, technology, and law, but they must create great places to work, live, and play rather than focusing on a 9-to-5 office mindset.